Marto Catholic King Swords
Marto swords for sale are crafted by world renowned artisans in Toledo, Spain. Since the Roman era, Toledo has a vast tradition of generating high quality swords. Toledo Steel was made famous for its high quality alloy and during the 20th century, many military officer, cavalry and NCO swords were made in the city. Today, Marto continues to follow many of the traditional sword-making processes. Buy these popular Marto collectibles offered for sale in numerous historical and religious designs.
Custom Engraving Services Available - Up To 60 Characters for Only $25
Customize For Ceremonies, Awards, Gifts and Celebrations - Add Services at Checkout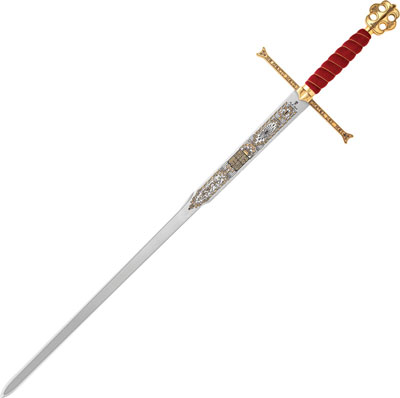 Marto Swords:
Catholic King Swords
$429.99


Marto Catholic King Swords for sale are crafted in honor of the real sword used in the 15th century in the kingdom of Ferdinand II of Aragon and Isabella. These skillfully made reproductions are designed after the sword used by Ferdinand II, the Catholic, to knight Christopher Columbus. Made by Marto in Spain, these medieval swords measure 48 inches in all. The beautiful mirror polished unsharpened blade is 36 inches in length. The tempered stainless steel blade features 24kt gold etching. The cross guard, scalloped pommel and the fittings of the Catholic King Swords are made of sculpted cast metal with genuine 24kt gold plating. The handle features burgundy colored velvet with a wire wrap. The handle features an inscription that refers to the motto of joint equality that Ferdinand II and Isabella used while ruling. This historic and intricately detailed sword does not include a scabbard as its beauty makes it better suited for display than use. Buy these Catholic King Swords that capture the world renowned beauty of a Marto collectible and rich traditional history for $429.99.