Preferred Supplier of Swords and Collectibles for over 24 Years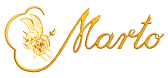 Marto Swords For Sale:
Marto Eric the Red Swords
Marto Julius Caesar Swords
Marto Masonic Swords
Marto Robin Hood Swords
Marto Richard the Lionheart Swords
Marto William Wallace Swords
Marto Black Prince Swords
Marto King Solomon Swords
Marto Knights Templar Swords
Marto Excalibur Swords
Marto Catholic King Swords
Marto Charles The V Swords
Marto Claymore Swords
Marto Shields For Sale:
Marto Lionheart Shields
Marto Knights Templar Shields
Marto Fleur De Lis Shields
Marto King Arthur Shields

Marto Eric the Red Swords
Marto swords for sale are crafted by world renowned artisans in Toledo, Spain. Since the Roman era, Toledo has a vast tradition of generating high quality swords. Toledo Steel was made famous for its high quality alloy and during the 20th century, many military officer, cavalry and NCO swords were made in the city. Today, Marto continues to follow many of the traditional sword-making processes. Buy these popular Marto collectibles offered for sale in numerous historical and religious designs.
Custom Engraving Services Available - Up To 60 Characters for Only $25
Customize For Ceremonies, Awards, Gifts and Celebrations - Add Services at Checkout
©2003-2019 Marto-Swords.com, All Rights Reserved | Duplication of Website is Prohibited